Steel Target IPSC №1 450*750*12 on stand G2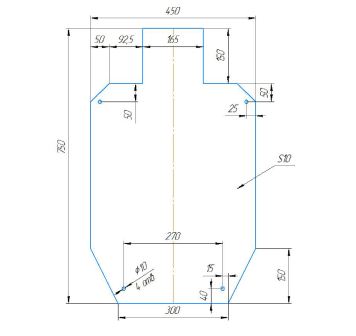 The steel target (IPSC №1) 450 * 750 on the stand G2 - modification of the target installation of the previous generation, which includes a new design of the stand for mounting the target on any surface.
The main advantages of a torso target (IPSC №1) 450 * 750
The target for shooting, presented on Velmet.ua online store, fully meets the Ukrainian and international quality standards. Here are some advantages of this product:
The sound effect . At the exact hit, it can be heard in a 10-meter distance from the target, which allows not to be distracted by the inspection of targets.
Reliable mounting. Target IPSC №1 is mounted to a stable base, the stem of which is made of a contour tube. The holder design includes two complementary components: a metal frame and spring-loaded holders.
Durability. We use ARM550 steel for manufacturing torso targets and gong targets. A special hardening technology helps to achieve a softer middle, which is covered with a hard shell from all sides. The application of Triplex hardening technology makes the target almost invulnerable, as its work surface avoids cracking n most cases.
Practicality. We offer the target equipment that can be quickly assembled and disassembled. The sectional design is a feature that makes the target be easily transported from one place to another and usable during the exercises of personnel.
Security. The functional elements of the steel target can be positioned at the angle that minimizes the possibility of a rebound while shooting at the close range.
CHARACTERISTICS
Linear dimensions of the assembly (H / W / T, cm - 178 x 76 x 63)
Thickness - 10 mm
Material - armored steel Velmet ARMOR ARM-550
Weight - up to 44 kg