Targ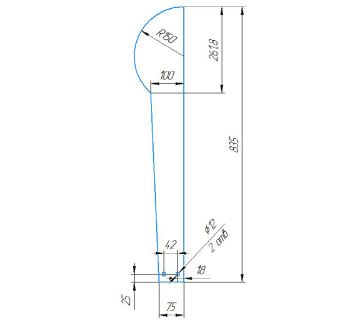 et Double Popper belongs to the traditional target equipment, which is widely used for the arrangement of professional shooting, training grounds for training and sports shooting, military training grounds. Its main purpose is to practice the accuracy of shots from various types of weapons (carbines, pistols, rifles).
The company "VELMET" produces various target-poppers, the price of whose in Ukraine is one of the most affordable.

This model is a modular construction that will be easy to transport and install. After the popper target is dismantled into 3 detached compact parts, it is easy to transport and keep.
This type of military equipment refers to targets of the falling type, the fall of the bullet hit, is a visual confirmation of the accuracy of the shot (the metal "tongues" of the target drop sharply down). Double poppers are ideal for training and qualifying practice shooting. One target is capable of withstanding more than 1000 hits, as it is made of high-quality metal. The manufacturer uses strong and reliable ARM550 steel, which has increased performance due to the innovative Triplex treatment. Powder paint application gives the target a higher contrast, makes it expressive on any background. The laconic shape of the stand helps to make the model even more ergonomic and comfortable. The attachment is made with strong hinges.
To practice shooting skills, it is not recommended to use cartridges with armor-piercing balls. Also, before operating the Double popper, carefully read the instructions and select the ammunition of the allowed caliber.

Today, metal targets in Ukraine are in high demand, as one of the most practical types of target equipment.