Target - gong 4V - modern target equipment intended for shooting of pistols, carbines, sniper rifles. Suitable for professional shooting ranges and military training ranges. Practical and durable target equipment from the Ukrainian brand Velmet allows to organize the training process and get the best results when working out accuracy of shots from weapons of various modifications.
Target - gong 4V Advantages
Resisitance.To manufacture our target gong we use the steel ARM550, which is subjected a special technique of metal hardening. The key difference between our gongs and the analogueues on the market that we send a ready-made target to hardening, and not cut out the required form of a sample from already hardened steel.
Durability. Our production facilities have special conditions that allow to produce steel gongs with structure technology - Triplex, which allows receiving a metal target with a hard outer shell and softer inner layer. This target can long resist the shots without the formation of micro cracks on its working surface.
Sound effect. Each direct hit at the metallic target from any kind of weapon is accompanied by the sound effect of metal hitting. This helps to avoid the interruption of the training process and testing targets located at the distance from a shooter's position.
Related Products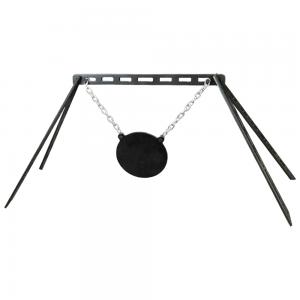 3 317 грн.