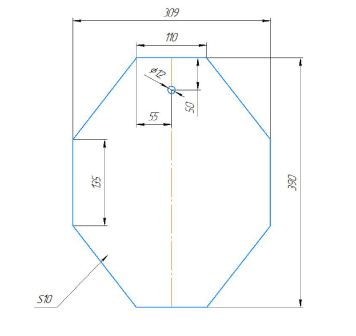 The gong target Octahedron is equipment of quality steel, which is actively used in professional galleries, military sites, areas to practice skills target shooting, paintball sites. If you are going to arrange your professional shooting range, you will find everything you need for equipment such a place on our online catalog.
The products of Velmet Armor System are in highly demand among the units of the Armored Forces of Ukraine and other military organizations. Our engineers are constantly working on improving existing equipment and creating a new one. The metal targets from the Ukrainian manufacturer meet the highest quality standards and are worthy of a place in your collection!
The main advantages of the gong- target Octahedron
These steel targets have such positive characteristics as:
Sound effect. The accuracy of the shot can be instantly identified by the characteristic sound of metal hitting, which can be heard in dozens, or even hundreds of meters away from the target.
Durability. All gong targets, which can be purchased on our online store, made of ARM550 steel and hardened according to a special Triplex technology. We harden already finished product, making it almost invulnerable to the effects of bullets. A soft middle prevents surface from cracking, which significantly extends the life of the target equipment.
• Easy mounting. The upper part has a hole which is for mounting with a help of a metal chain or a strong rubber band.
Usability. A compact octagonal design lets easy transport the metal target at any distance.
Buy the target equipment in Ukraine
It is possible to buy gong targets in Ukraine without spending extra time and costs. Velmet Armor System offers favorable conditions of cooperation to wholesale and retail customers. Our catalog presents a wide range of reliable and durable goods at the prices from the manufacturer; we are ready to deliver them to any region in the country by a reliable transport company.
In addition to the target equipment, our virtual military store is ready to offer customers modern elements of body armor, tactical gear and clothing, reliable tool. We are constantly working on updating the range of products and putting every effort for fulfillment the requirements of our most inventive customers!
Overall dimensions:
· Thickness - 10 mm;
· Weight - 8 kg
Targets are made for handguns and rifles up too .338